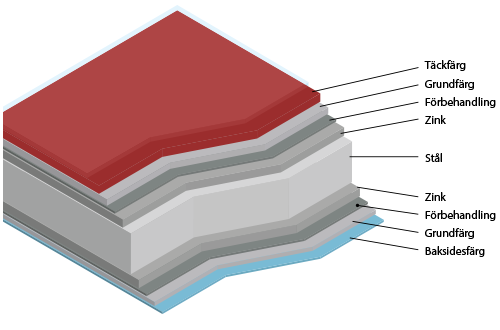 With abc Garantiplåt, you get a system where roof hoods, grilles, construction sheet, water drainage and garnishing age equally and match colors over time. abc Garantiplåt has a paint coating warranty of 25 years and meets corrosivity class C4.
GreenCoat® color coated steel products comply
with the following provisions:
- REACH regulations
- CLP (1272/2008/EG)
- SundaHus
- BASTA (2017:A1)
- Byggvarubedömningen (BVB, 2013)
- Building product declarations (Association for Building Product Declarations,
   BPD 3, 2007).
Tests
- EN 13523-1:2009
- EN 10169 + A1
Miljövarudeklarationen (EPD) för GreenCoat®
Source: SSAB
  Galvanized
The plate consists of a steel core that is metallized by hot-dip galvanizing. Z275, corrosivity class C3.
  Aluzinc
Another method of metallizing sheet steel than hot-dip galvanizing is to coat the sheet with a mixture of zinc, aluminum and silicon. The coating has a greater resistance to general corrosion than a pure zinc layer can achieve. Therefore, the aluzinc sheet is also used without painting treatment. AZ185, corrosivity class C4.
   Stainless steel
The properties of stainless steels are mainly determined by the steel's structure and alloying additions. EN 1.4301 (SS 2333) Corrosivity class C5.
 
Acid-resistant stainless steel
The acid-resistant steel sheet we use is EN 1.4404 (SS 2348).
  Copper
Copper is a classic and exclusive material. Thanks to its softness and malleability, the material has been used throughout the ages for prominent buildings, often in combination with complicated decorations. Nowadays, copper sheet's areas of use have broadened, among other things thanks to the material's good corrosion properties.
  Aluminum
The corrosion resistance of aluminum is very good. When aluminum is exposed to air, a well-adherent and hard oxide layer spontaneously forms. Despite the good corrosion resistance, it is often the case that, for aesthetic reasons, the aluminum sheet is painted. Aluminum should not be exposed to lime, plaster, concrete or similar alkaline products.
  Rheinzinc/Titanzinc
Titanium zinc sheet has a surface with a characteristic shiny metallic surface. Zinc exposed to the outdoors acquires a beautiful grey-blue patina over time, at different rates depending on the slope and direction of the weather. The material has good corrosion resistance and is very malleable in the hands of a skilled professional. Also available in pre-patinated version.
  Zinc magnesium
Metal coating for steel with 3% magnesium. The magnesium content in the alloy increases corrosion resistance compared to other anti-rust treatments. Zinc magnesium provides very good protection in environments that are strongly alkaline or contain chloride and ammonia. ZM310, corrosivity class C5. Tested and approved by SP for use in marine environments up to corrosivity class C5 with a warranty period of 20 years.